10. ORGANIC ELECTRONIC TECHNOLOGIES (OET)

Description
Organic Electronic Technologies (OET) is a high-tech SME founded in 2012 and is located at Thessaloniki.
Brings more than 30 years of experience in Thin Film Technologies and 18 years in OEs.
Highly expert in R2R Manufacturing of printed, OPVs, OLEDs, Bio/Sensors and Antennas RFID / NFC.
World leader in R2R Manufacturing Processes & Technologies for Printed OEs
In-line & real time Metrology and Quality Control of OEs Processing & Manufacturing
In-line Laser Patterning at low Temperature for Complex Free Form Designs
In line Laser Processes for Power Module Enhancement 
In-line R2R printing systems design and development
Automated Quality Control Platforms for implementing real-time decision-making processes in R2R industry (design and development)
Automated printing 4-axis systems with monitoring control (design and development)
Expert in Design and Building OEs Smart Factories of the Future
Participated in 9 EU and National projects and has a strong R&D and innovation profile
Main tasks in the project Nano-manufacturing of printed OE devices (OPVs, OLEDs) Real time characterization & Process Optimization on Industrial scale Assessment of improvement of manufacturing process in terms of time and resources OPV & OLED demonstrators & prototype validation, Market replication
Expertise related to the project
OET holds a long term experience in R2R Manufacturing Processes & Technologies and has unique infrastructures of R2R manufacturing of Printed Organic Photovoltaics and other OE devices in large-scale. These infrastructures include Pilot-to-Production R2R line, in-line and real-time metrology and quality control tools of OEs processing and manufacturing, in-line laser patterning system as well as encapsulation equipment for production of flexible OE devices. OET also has characterization equipment for performance and life-time testing of printed organic photovoltaics and OLED devices in standard testing conditions.
Description of profile of key staff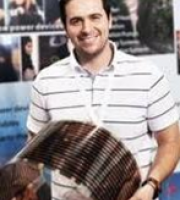 Mr. Evangelos Mekeridis (M)
MSc. Material Scientist, OET's Production & Quality Control Manager. Mr. Mekeridis is specialized in Sheet-to-Sheet and Roll-to-Roll printing processes like inkjet, slot die, gravure, flexo-screen printing, dip coating and spin coating. He is experienced in synthesis and characterization of Organically Modified Silicate (ORMOSIL) coatings as barrier thin films, chemical and electrochemical deposition. His expertise includes synthesis and characterization of nanomaterials, and loading and release studies of hollow nanocontainers.
_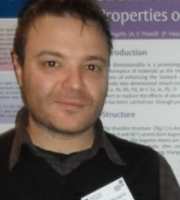 Dr. Panagiotis Mangelis (M)
Dr. Panagiotis Mangelis is R&D Scientist within OET's R&D&I Department with a demonstrated history of working in the field of Materials for Sustainable and Renewable Energy Technologies. Having a strong academic background and being a holder of a PhD and MSc in Materials Chemistry and a BSc in Physics, he is skilled in material synthesis, processing, thin film fabrication and characterization, while it holds experience in EU-funded projects participation. Having worked as a Post-doctoral Researcher in University of Pisa, Italy and in Foundation of Research & Technology – Hellas (FORTH), he has six publications in peer reviewed journals as well as he has participated in many International Conferences, presenting his research activities.
_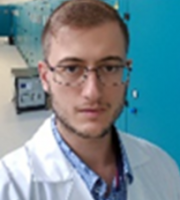 Chrisostomos Varlamis (M)
Mr. Chrisostomos Varlamis graduated from the Department of Materials Science and Technology of the University of Patras, with postgraduate studies in Nanosciences & Nanotechnologies at AUTh. He is a specialist in various encapsulation techniques and methods, R2R Printing methods for the fabrication of OPVs and on the product prototyping and testing of final performance.
_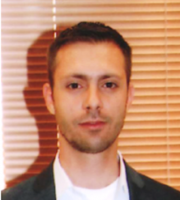 Vasileios Kyriazopoulos (M)
Mr Kyriazopoulos graduated from the Department of Materials Science and Technology Engineering of the Polytechnic School of Ioannina, with postgraduate studies in Nanosciences & Nanotechnologies at AUTh. Mr. Kyriazopoulos is a specialist in Sheet-to-Sheet (S2S) and Roll-to-Roll (R2R) printing techniques, in particular in the development of organic light emitting diodes (OLEDs). He is also an expert in the characterization of organic and inorganic materials using non-destructive techniques: Atomic Force Microscopy (AFM), Spectroscopic Ellipsometry (SE) and Raman Spectroscopy (RS). In addition, it specializes in the electrical characterization of OLEDs (electroluminescence, photoluminescence).
_