11. APEVA SE
Description
APEVA SE is a new company (spun off from AIXTRON SE in 2017) focused on the OLED display industry. APEVA is a complete deposition system provider for the organic material layers within the OLED stack. APEVA operates its strategic organic vapor deposition technology (OVPD) out of its location in Herzogenrath, Germany. While the main market for such deposition equipment is seen in Asia, APEVA's core deposition technology development, related work force and IP are in Germany. In its laboratory in Germany APEVA operates a Gen1-size OVPD cluster for organic device fabrication and a Gen8.5-size OVPD demonstrator.
Expertise related to the project
• Specification and identification of key experimental parameters of the OVPD process
• Development of OVPD deposition processes for OLED applications on the OVPD pilot line at APEVA • Assessment of specific physical parameters to be validated by the characterization and modelling
• Evaluation of OVPD deposition processes e.g. by RGA characterization of OVPD, ellipsometry, electrical characterization of deposited samples • Evaluation of gas dynamic simulations for OVPD • Optimization of OVPD OLED process parameters according to industrial requirements • Assessment of benefit of quality control for the OVPD process • Exploitation of results for larger substrate areas
Description of profile of key staff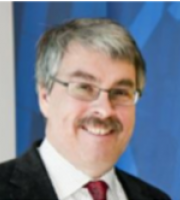 Prof. Michael Heuken (M)
He joined AIXTRON AG in 1997 in Aachen-Germany where he is now Vice President Corporate R&D. His main research interests are in the fields of semiconductor growth by MOVPE, materials characterization, device technology, electronic and optoelectronic devices and circuits. Prof. Heuken is author and co-author of more than 420 publications in international journals and several invited papers at international conferences. He was President of DGKK (German Crystal Growth Association). He is member of VDE/ITG and board member of OptechNet e.V. and EPIC. He has been granted several patents in the MOVPE technology.
_
Dr. Peter Baumann (M)
He joined AIXTRON AG in 2000 and has been working as Project Manager for R&D Projects. In 2017 he joined the new company APEVA SE, as it was spun off as a subsidiary from AIXTRON SE. His experience includes novel materials chemical vapour deposition for future generation device technology. At APEVA and AIXTRON. Dr. Baumann has been managing numerous R&D projects including publicly funded research projects in the area of OVPD, ALD and MOCVD. He has authored or co-authored more than 80 scientific publications, several invited papers at international conferences and has been granted several patents in the field of organic materials, high-k dielectrics, wide band gap materials, diamond and CNT for advanced device applications.
_